Description
You want to work with a precise and flexible spectrometer in your measurement applications? The NUV 200-589-12 consolidates spectral range, resolution and sensitivity in a compact and highly practical device.

NUV 200-589-12 was developed by users, because comparable devices are not available on the market.

This is now the fourth product generation of the device, and it is used in numerous facilities, both laboratory supported and industrial.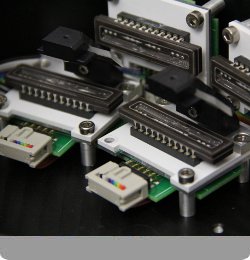 Technical Specifications
Optics:
Optical Set-up
Multi CCD / Paschen-Runge arrangement
Fibre optic connection
SMA
Spectroscopy:
Wavelength range
200 – 589 nm
Resolution
5-30 pm
Integration time
> 2 ms
Frequency
up to 1kHz
Electronics:
Digital I/O
6x Trigout / 2x Trigin / Encoder
Power consumption
< 60W at 24V
Port/Gateway
RJ 45 (1 GBit)
Operating System
Windows XP, Vista; older operating systems upon request
Physical:
Dimensions
Approximately 330 x 310 x 120 mm3
Weight
Approximately 5 kg